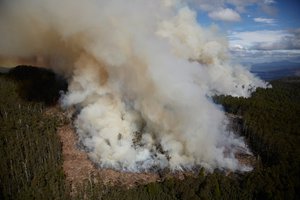 Tasmania needs a breath of fresh air. 
Every year in Autumn Forestry Tasmania and private logging companies burn the waste caused by industrial logging that has destroyed large tracts of forest. 
These so called "regeneration burns" turn the world's cleanest air into a health hazard. The entire state of Tasmania has to suffer air pollution because Forestry Tasmania and the logging industry continue to pursue the archaic, ecologically unsound practice of logging and burning in the forests.
Tasmania's fresh air is one of our greatest assets and our children's birth right.
Enough is enough, lend your voice to call for a BAN on the practice of "regeneration burns" in Tasmania.
Demand elected representatives BAN the environmentally disastrous logging burns and keep Tasmania's air the cleanest in the world.